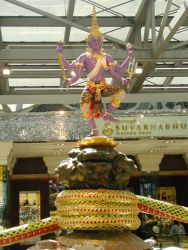 The new airport near Bangkok is opened. The new gateway to Asia got the name Suvarnabhumi (Su-Wan Na-Puum) from its majesty King Bumibol Aduyade and it means "The Golden Land". The airport built from glass and steel is the largest single passenger terminal in the world.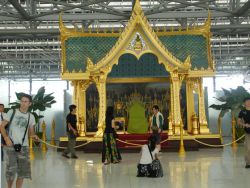 Inside the architects try to connect tradition and modern age with each other and I think they have done well. Travellers can have long ways to go on arrival, take-off or Tranfer, because of the dimension of the airport. Thanks to endless run ribbons and innumerable lifts and escalators in the building, however, the efforts keep in limits. Primarily also because an excellent Air Condition provides a pleasant climate.
The new airport is located in Racha Thewa in the Bang Phli district of Samut Prakan province, 30 kilometers east of Bangkok and is attached to the road network excellently.
Some facts about the airport:
terminal building: 563 000 m²
storeys: 8
length: 444 m
width: 111 m
capacity of handling passengers: 45 million per year
handling flights: 76 operations per hour
passport control checkpoints for arrivals: 130
passport control checkpoints for departures: 72
baggage conveyor belts: 22 (22 km in length)
check-in counters: 360
moving walkways: 107
elevators: 102
escalators: 83
And a remark for the confirmed smokers. There are smoking areas, not easy to find, but on all floors.