Planes, Trains and Automobiles, also some Boats!
By Paul Dale Roberts
This November of 2005 from November 9 to November 19th was my major vacation for the year. Where did I select? Madrid, Spain. Why? Because I have never been there before and also there are neighboring countries and territories I could also visit.
I had to fly out of San Francisco International Airport, so that means I had to drive the trek from Elk Grove/Sacramento to South San Francisco, which I was dreading. On my drive across the San Mateo Bridge, a truck in front of me dropped a red construction cone and I found myself unable to avoid hitting it. Then 'bam', I hit the darn thing and I was hoping my car wouldn't be disabled, it wasn't and kept cruising at a nice regulated speed to my destination. You never know what could happen on the way to the airport, so it's best to leave early. When I got to Long Term Parking, I had the hardest time finding a place to park and finally in the C-12 section, I could park my car. Now I must write C-12 on a piece of paper, so I can remember where I parked my car in the mass of other parked cars.
My flight on Continental Airlines wouldn't leave until 11:20am, but I got up at 4am, got my bags ready and off I headed. My flight on Continental Airlines would take me from San Francisco to Newark, New Jersey. I was seated between two young ladies, Crystal from some town outside of Newark and Tiffany a bartender out of Vermont. When you travel, you make friends real quick with other travelers and before I knew it, Tiffany, Crystal and I were telling travel stories to each other, while we took turns paying for rounds of cocktails. At first, I was disappointed with Continental Airlines, it seemed like they catered too much to the first class passengers that took 2 whole sections of the aircraft. Also, it seemed that the first class passengers had more bathrooms than us coach riders that were limited to only 2 in the back of the airplane. Plus, I was upset because they said that there were too many carry-on bags on the flight and they took my carry-on bag away from me.
Would I ever get it back I wondered? Because of the bad weather, our flight was late in arriving in Newark, New Jersey. When I hit the airport, I learned that I missed my flight to Madrid. Now I was upset. Continental tried to appease the situation by putting me up for the night at Holiday Inn on Edison in Newark. I took the long shuttle ride to my hotel and learned that Continental also is buying me dinner (Round Table chicken wings, pizza and Pepsi). My room at the Holiday Inn was Room 323 and it was a nice comfortable room and I found myself sleeping soundly. Continental also provided free breakfast at the hotel and I had to leave by 12pm. The shuttle took me back to Newark International Airport and my flight for Madrid was scheduled to leave at 8:30pm. I met two older Melbourne, Australia women on this shuttle that were wonderful in telling their travel stories to me. Remember, I no longer had my carry on bag because Continental Airlines took it and I was left without my main necessities to survive. They told me some of their horror travel stories, but they still love to travel. My hat off is to you Denise Johns, who is the Director of Goldview Apartments in Melbourne and her lady friend, also from Melbourne.
Now I felt like Tom Hanks in the movie The Terminal, because I felt like I lived at the Newark terminal.
8:30pm finally came and I found myself this time seated with 2 passionate lovers, both were men. Thank goodness Continental Airlines provided a good movie called "The Island" on my way to Madrid, the 2 guys next to me kept calling each other pet names which was very distracting.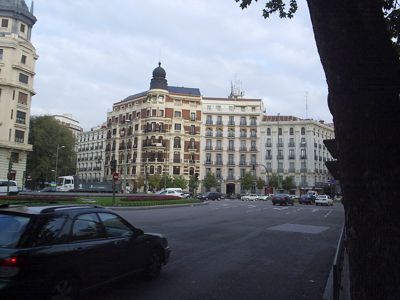 I arrive at Madrid and of course I was prepared to be ripped off by the taxi driver. Would this taxi driver with pictures of the Virgin Mary and Jesus placed around his vehicle actually rip me off? Yep, I should have known it, the meter showed 16 Euros and he demanded 25 Euros. Instead of sitting there arguing with him, I just gave him his lousy 25 Euros. When you are in a foreign country, always be prepared to be ripped off by the taxi driver. I tried to bond with the taxi driver and told him I was Catholic too, but to no avail did it help my pocketbook. I was amazed at the fast moving traffic in Madrid. Cars moving at a stunning speed and not colliding. Later when I finally did reside at my hotel, I learned there was a multiple car crash with 2 people dead at the scene.
If you are a smoker of cigarettes, you will LOVE Madrid, you can smoke at many places at the airport, you can smoke in every restaurant, hotel and pub. At the pubs you can order your drink and they serve small sandwich hors d'oeuvres with your drink at no cost. Dogs are even allowed inside restaurants and pubs! It seemed like every Madridian smoked cigarettes, they are not at all health conscience as us Americans. In fact I saw very few Madridians jogging like us health conscience Americans. They have some American places to eat in Madrid such as a multitude of Burger Kings, Starbucks and even a Foster Hollywood American Restaurant. Don't ever eat at Burger King in Madrid, the burgers don't taste the same and I found myself having a hard time digesting one burger without regurgitating.
Ahhh...my hotel, I found myself staying at the Hotusa Andromeda - Almagro 10, Madrid MA28010 Room 207. The bed was as hard as a rock and the room looked like a prison cell at Alcatraz, but this was my home for the next 9 days. The price was very reasonable, but of course I missed one night at the hotel and they charged me for that night anyway, in which I will dispute that payment in my next VISA payment. On my first night walking through the streets of Madrid, I found myself caught in a huge political rally. It seemed like I was in a horde of millions of people and I was stuck in this mass of people demonstrating for whatever cause. News helicopters swarmed the skies and if you look on the news, you could probably see my ponytail in this exodus of political demonstrators. The discotecas of Madrid are supposingly famous for their all night escapades, so I had to try the Madrid disco scene while I was there and they pumped techno music and salsa all night long. Katrina from Moscow, Russia and Serena from Bulgaria showed me some techno dancing. My head was almost splitting from the constant pounding of techno girbishish. What is strange about a Madrid discoteca is that men can dance with men, women can dance with women or you can simply go up to the dance floor and dance by yourselves. Maria Teresa Rey Moreno, Eureno and Julia at the La Boite del Pinto Discoteca showed me some Salsa moves. How I longed for some good ol' fashion Old School Music.
When you order a drink at one of these discotecas, they also serve free potato chips, sandwich hors d'oeuvres and chocolates. After my experience in a discoteca the second time around, in which I found myself sitting alone and agitated by the music, I decided never to return again. In fact the bouncers or doormen, always frown and they don't like foreigners hanging out at their establishments. They would tell me that the nightclub wasn't open yet and I would come back around 15 minutes later and they were letting the Spanish patrons in. Finally after some persistence they reluctantly let me in.
In most countries that I have been to, English is the 2nd language. Not in Spain, if you don't speak Spanish you're a washout in their eyes and they don't truly care for Americans. I tried to explain to them, that my madre (mother) spoke Spanish and they would frown at me and I can tell that they wondered why I never learned. Maybe because my parents always spoke English in the house.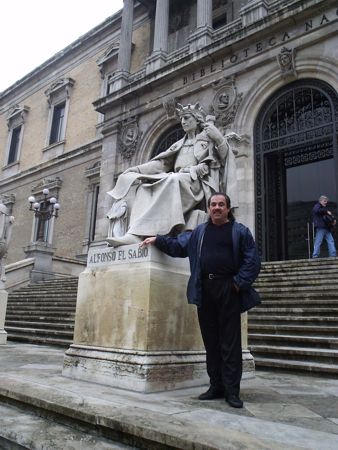 This country is the 2nd country I felt unwelcome in. The first one being France and now Spain. Every other county I have visited from Russia to Thailand to Brazil, I always felt like a king and it seemed the people of these said countries would roll out the red carpet for me. I didn't find this in Spain and it was so funny because certain Spanish surnames in my family were people I met at places I visited, like I met a few Ayala(s), I have Ayala(s) in my family, I met a large assortment of Rodriguez and I have Rodriguez in my family. When Spanish people greet each other, it's by kissing each other on both cheeks. I may have said that hardly anyone speaks English, but there were some people that I met that did and you will meet them as I continue this article. The Spanish may not embrace Americans, but their culture, heritage and history was absolutely amazing!
You can take a city tour of Madrid and see the following: Puerta de Alcala, Parque del Retiro, Palacio Real (Royal Palace), Puerta del Sol, Plaza de Toros de las Ventas (that has a beautiful statue of a bullfighter at its entrance), Torres Kio (modern architecture - 2 lean skyscrapers that face each other, it makes the Leaning Tower of Pisa look tame in comparison), Statue of Don Quijote (what? no Don Juan statue?), Fuente de Cibeles, Gran Via, Colon Centre (which was near to my hotel), Fuente de Cibeles, Plaza de Toros Las Ventas (where bullfights are held - huge outdoor arena). I can sit and explain to you each and everything I mentioned here, but it would take a book to do it, I suggest to explore these names on any Google search engine and see what these places are, it will amaze you.
Now let me tell you things that you won't find on Google. VIPS is the equalivant to our 7-Eleven, always open and I love the food. I became a regular at VIPS and the people that work at VIPS Zurbano were very, very friendly! When I would return to my hotel room, I usually watched CNN World News, Cold Case Files, Magnum P.I, & Law & Order in Spanish! If you get hungry in Madrid, it won't be hard to find a cafeteria or a restaurant. Just on the streets near my hotel these were some of the places you can eat at or do other activities, if I don't mention the other activities, then this was a place to eat at: Arroceria La Burganvilla Restaurant Bar, Capi An Restaurante & Bar (this is a place with a friendly atmosphere and hosted by two courteous gentlemen), Pans & Company (for sandwiches), Cleoja's Discoteca (with their mean doormen and dancing to mundane Salsa and Techno music), Cafe & Te GR Compania del Tropico, El Corte Ingles (for good reading books), Rodilla Deviaje (more sandwiches), Cerveceria Serrano, Tony Roma's Famous for Ribs, Rodilla, Bice Ristorante - Fresh and Ready Sandwiches (I told you Spanish love sandwiches), La Fa Brica Museo de la Cerveza, Viena Capellares (for their pastries), Cafeteria Almagro (which is located next to my hotel), Portosin Cafeteria, Gaudi Pub, Pasa Jes Libreria Internacional (more books), Subway (yep, they love American sandwiches too!), Plaza 66 Cocina Mediterranea, Foster's Hollywood American Restaurante and even Hard Rock Cafe (which is filled with a bunch of drunk people every night).
The TV commercial always says..."Smile your in Madrid", I didn't always find myself smiling and about 5 days into the trip in Madrid, I longed to be home. I did lots and lots of walking in Madrid and my bones ached, I happened upon Masajes a 1.000, a massage business and Helica, a masseuse gave me a nice back massage that I needed real bad. Thanks Helica. Some of the things I loved about Madrid. I never had to give any tips to a waitress. Either I stiffed every waitress in every Madrid restaurant I frequented or they don't allow tips, I never saw anyone else giving out tips. So no tips! Yeah!
There are very few homeless people I saw. Discos stay open from 11pm to 5am (big deal, how did I put this on the list of things I like in Madrid, I didn't much care for the discos?), no parking meters (because they have one machine to every 10 cars and you go up there and buy your parking ticket - very smart, how come we don't do that in America?), Europeans are very fashion conscience, men dress in elegant suits, women sport in fancy skirts, blouses and designer panty hose that display many articulate patterns. They dress well for work and for play. I give them that.
I have a home business at www.jazmaonline.com in which I promote writers and artists who are trying to break into the business of animation and comic books and met 2 guys at Starbucks, one a writer and the other an artist who are trying to break into the comic book industry. Boy, they were talking to the right guy, I gave them two comic book t-shirts, one was a Tales of Bloody Mary comic book t-shirt and the other was a Harry Johnson (Private Investigator) comic book t-shirt, they were thrilled to receive the t-shirts and I got free hot mochas everytime I frequented their establishment!
The aspiring writer/Starbucks worker was from Equador and he is paying for his schooling in Madrid by working in Starbucks. Here is something I was shocked about, from Midnight to 5am they have on about 6 late night TV stations that graphically show intimate encounters, in Russia and Germany the TV is pretty liberal with an R rating, this was X rated here in Spain. I hope their kids don't stay up late watching TV. During the time I was in Madrid, I knew I had to venture off to other faraway lands.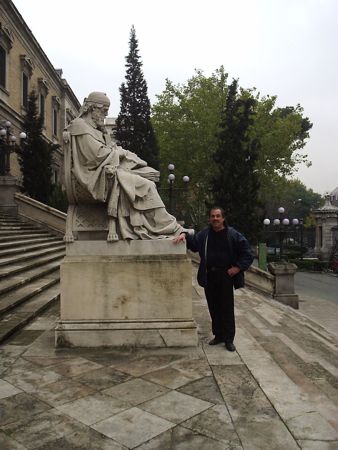 By train, I traveled from Madrid to Algeciras going through Sevilla. Then took a boat from Algeciras to Tanger (Tangier - Morocco - North Africa) . Morocco is called by the Spaniards Reino de Marruecos. In Tangier, I found open markets that sell everything from olives, nuts, grain and rugs. The streets are a maze. There are satellite dishes and TV antennas everywhere. There are many clotheslines displaying clothes that are drying out in the hot sun. The homes (or box white shelters) are stacked together so closely, you would think it was one big huge apartment complex. They have their mosques and open cafes where the patrons are peacefully smoking out of their water bowls or pipes, a substance that has more nicotine than cigarettes and is very addicting.
There are many peasants asking for money when you arrive in Tangier, some of their citizens work at a huge Metro-gas plant. When I arrived in Tangier, I saw the police chasing down some kids, there was chaos everywhere and one policeman bumped me hard as he pursued some street thug. Now Gibraltar is another story. Gibraltar is a province of Britain, a British crown colony. Gibraltar is on the west entrance of the Mediterranean Sea. At one time Africa and Spain were connected and due to the shifting of the Teutonic plates, Spain and Africa separated. What is interesting is that some Moroccans speak perfect Spanish.
The Rock of Gibraltar is one massive monolithic Jurassic limestone promontory that overlooks the African Coast. The hillside of Gibraltar is beautiful and ordained with gorgeous terraced homes. On my way back to Madrid via train, as I past Sevilla, this is where I met the flamboyant Seven Martinez. Seven Martinez looked like a young Antonio Banderas, he wore all black and styled in his fashionable black leather trench coat. His ponytail was longer than mine and jetblack, compared to my hair that is sprinkled with gray. Seven Martinez was a real people person and was friendly with everyone, he spotted me out in the crowd and knew I was a foreigner right off. Seven bragged about speaking 5 languages.
He spoke English, his native Spanish, Portuguese, French and Italian. I flashback to the Russian and Bulgarian girls I met at the disco who claimed to speak English, Russian, Spanish and French. Gee, I'm lucky to speak English and the very few words I knew in Spanish. But, I hate to brag myself, but when I was stationed in Germany, I did speak German pretty fluently, but with no one to practice my German with, I lost the ability to speak German.
Seven Martinez took up the name Seven, because that is his lucky number. He was not too divulging in his personal lifestyle and claimed to have some kind of clothing business, but he kept it mysterious, as he would not give in to too many details. I told Seven that I wanted to cross the border into Portugal, so I could make a conquering claim that I set foot in Portugal and I had to take a train to get there. He told me, why take a train, when I could pay him 50 Euros and he would drive me to a border town in Portugal tomorrow. Tomorrow came and Seven Martinez in his black Opel Astra was in front of my hotel to drive me across the border of Portugal. Seven bragged about his amorous adventures all the way to Portugal.
Seven dropped me off at a cafe in Vilar, Portugal and no more than 20 minutes was picking me up to take me back to Madrid. I asked Seven if we could stay longer. His reply...'you want to live in Portugal, or do you want to go back to Madrid? You make up your mind!' I decided I didn't want to get stranded in Portugal, so back into his black Opel Astra I went to listen to more of his amorous stories. I noticed that Seven also had 2 tattooed crucifixes emblazoned on both of his wrists. I wondered if I was involved in some kind of shady transportation of illegals in another country, unaware of what this Matrix looking fellow was truly up too. Anyway, Seven delivered me safely to my hotel and off on another adventure he sped away.
I did enjoy his company, he was truly a colorful person of Madrid. Thanks Seven for showing me that one cool building by the railroad tracks at Vilar Formoso that had those beautiful tiled detailed colored images on the outside of its walls! That was amazing! After this amazing adventure in Madrid - Sevilla, Spain; Gibraltar; Vilar Formoso - Portugal; Tangier - Morocco/North Africa; Newark - New Jersey, I was ready to go home. I got ripped off by the second taxi driver going to the Madrid International Airport, this is to be expected, this one got me for 30 Euros. I had another long layover at the airport and to make time pass by quickly, I got into a nice travel conversation with Sonia Giannattasio from Caracas, Venezuela that was headed for Paris, France, she had already been to Madrid and Barcelona. She is a world traveler and told me about some of her experiences abroad.
My flight home was a pleasant one.
From Madrid to Newark, I sat with a nice older couple from Zurick, Switzerland, I assisted them with pulling out their carry ons from the cabinets when I debarked from the airline and I found my flight back to Newark very enjoyable, the Continental staff were very courteous and very helpful, the movies that they showed for this flight was Batman Begins and Billy Bob Thornton's Bad News Bears.
My flight from Newark to San Francisco was pleasurable too and of all things I sat with an older Spanish lady that was fun to talk too and she was amazed I had traveled to Spain all by myself, I explained to her that I have traveled internationally many times by myself, but other times with family or friends, I was used to it. I told her I am an adventurer that enjoys world traveling. She just smiled. When I arrived to my vehicle, I had a slow leak in my back tire, I called Triple AAA and they were there in 15 minutes pumping air in my tires.
When I reached Berkeley, I was able to pick up one of my favorite radio stations V101.1 and enjoyed the lively music that kept me awake until I arrived home in Elk Grove, where my 2 dogs, a Jack Russell Terrier named Pika and my black Chow named T-Rex were eager to greet me.
Ahhh...home at last, sleeping in my soft comfortable bed. Even though I dealt with some negativity from the people of Spain, would I do this all over again? You betcha!
But, I just won't be going back to Spain!

Sincerely yours,
Paul Dale Roberts
5606 Moonlight Way
Elk Grove, CA 95758
Diese E-Mail-Adresse ist vor Spambots geschützt! Zur Anzeige muss JavaScript eingeschaltet sein!
(916) 203-7503